We gratefully acknowledge the financial support of the Province of British Columbia through the Ministry of Healthy Living and Sport, and the assistance of the British Columbia Museums Association.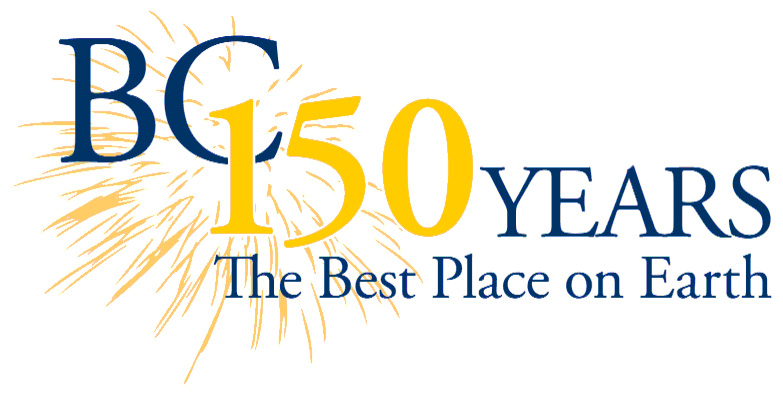 ________________________________

Jeannette C. Armstrong: Translating a People and a Land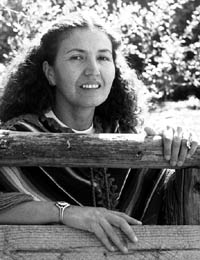 Jeannette, ca. 1985
by Lally Grauer, Ph.D.
Jeannette Christine Armstrong was born on the Penticton Indian Reserve in 1948, and, aside from the two years in Victoria when she was attending university in 1977 and 1978, she has lived all of her life in the Okanagan. Yet she has become an internationally recognized writer and activist – a novelist, poet and spokesperson for Indigenous peoples' rights to land and justice, education and language, and a healthy environment.
Armstrong began writing poetry as a child, and the talent for writing runs in her family. Her great-great aunt was the novelist and storyteller Christine Quintasket, also known as Mourning Dove. Armstrong has spoken of the importance of both her parents to her own love of language. Her mother greatly loved reading, and she read aloud to her children, encouraging them to read. Her father told vivid, descriptive stories in Okanagan. Fluent in both Okanagan and English, Armstrong often found herself acting as a translator in her community, and in many ways she continues that role as a writer and as a spokesperson.1
In her novels and poetry, Armstrong experiments with language and form, working to make English reflect Okanagan language, concepts, and relationships with a community that includes not only people but also the land and all that grows and lives on and in it. Her first novel Slash (1985), now in its tenth printing, focuses on a young male protagonist growing up in the Okanagan in the 1950s and 1960s. Becoming a radical activist, he embarks on a physical journey through Canada and the United States, as well as an inner journey influenced by the experiences and teachers he encounters. In the end, he is led back to a deep understanding of his own land and people. The novel uses fiction to 'translate' a history of change for the Okanagan people, a story to translate a spiritual journey, English to translate Okanagan ways of knowing and learning. Her second novel Whispering in Shadows (2000) follows the protagonist, Penny Jackson, a single mother and artist, from the Okanagan to Chiapas, 'translating' for readers the concerns of Indigenous communities threatened by economic globalization and suggesting that no-one is immune from its web of deadly consequences.
The publication of Slash represented an important milestone for literature in Canada, as it was one of the first modern novels published by an Indigenous Canadian author. (One earlier work, Beatrice Culleton's In Search of April Raintree, was published in 1983.) It followed a turning point in Armstrong's own life, when she returned to the Okanagan in 1978 after finishing her Bachelor of Fine Arts at the University of Victoria. She had intended to stay a short while before going back to university to do a Masters degree, but the Chiefs of the Okanagan had decided to make education a priority in their communities, and Armstrong was recruited to help organize an educational strategy and curriculum that addressed the needs of the Okanagan people.
Armstrong helped to establish the En'owkin Centre for that purpose in Penticton in 1979, which was first called the Okanagan Indian Curriculum Project. It became clear that an important component of relevant curricula was writing by Indigenous authors. Armstrong, in an effort to encourage the development of Indigenous literature, decided to put into practice what she was advocating, and set out to write the novel Slash. In 1982, Theytus Publications, an Indigenous-run press, was established in Penticton under the wing of En'owkin, and in 1989, Armstrong became a key force behind establishing a centre for creative writing. The En'owkin Centre became the En'owkin International School of Writing, offering Canada's only creative writing program run by and designed for Indigenous people. Indigenous scholars and writers from all over Canada and the US came to the Okanagan to teach and study. Throughout the 1990s, this institution played an important role in encouraging many authors to get into print and furthering the development of a national network of Indigenous writers in Canada. Today, the En'owkin Centre, with Armstrong as Director, has expanded to include the study of Okanagan culture and history, language and traditional arts, as well as fine arts and education. It has established joint degree programs with the University of Victoria and the University of British Columbia, Okanagan. Meanwhile, Armstrong has contributed to the development of Indigenous Studies at UBC Okanagan, and taken on the job of Assistant Professor in Indigenous Studies at that institution.
Besides writing novels, Armstrong has published children's books, Neekna and Chemai (1984) and Dancing with Cranes (2004); a collection of poetry, Breath Tracks (1991); and an anthology of Indigenous poetry, Native Poetry in Canada: A Contemporary Anthology (2001), edited with Lally Grauer. She has written and edited works on Indigenous philosophy and criticism, including The Native Creative Process (1991) with architect Douglas Cardinal, and Looking at the Words of Our People: First Nations Analysis of Literature (1993), a collection of literary criticism by Indigenous writers and academics. Armstrong has been recognized as a writer and scholar by St Thomas University in New Brunswick, which awarded her an Honorary Doctorate of Letters in 2000, and in her own Okanagan region by the University of British Columbia Okanagan from which she received an Honorary Doctorate of Laws in 2006, and by Okanagan College, which gave her an Honorary Fellow Award in 2008.
"All my elders say that it is land that holds all knowledge of life and death and is a constant teacher. It is said in Okanagan that the land constantly speaks. Not to learn its language is to die."2
Art, scholarship, traditional knowledge and actively trying to make changes for the better in the world are not separate spheres for Jeannette Armstrong, but have always been intertwined. While organizing and educating in the Okanagan through her writing and through institutions like the En'owkin Centre, Armstrong has also worked both in Canada and internationally as an advocate of justice and rights for Indigenous peoples. In the 1990s, for example, Armstrong participated as one of seven judges in the International Indigenous Court of Justice called by the Chiefs of Ontario; she was a member of the Council of Listeners in the International Testimonials on Violations to Indigenous Sovereignty held in Albuquerque, New Mexico, for submission to the UN; and she was invited to be an international observer by the Continental Coordinating Commission of Indigenous Peoples in peace talks in Chiapas, Mexico, and in Chile. In other words, she has been actively involved in countering the effects of colonialism and a corporate globalization that has constructed a "world economic disorder." Armstrong maintains that "Indigenous rights must be protected, for we are the protectors of the earth."3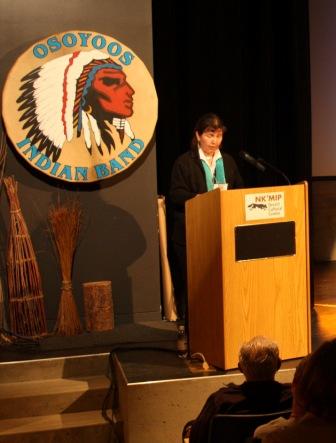 Jeannette speaks at launch of Class Acts, October 25, 2008
Photo Credits: Paul Everest, Osoyoos Times
Protecting the earth here in North America and locally in the Okanagan has been central to Armstrong's work. Teaching Indigenous approaches to connections between the community and the environment, she has served as an adviser to many organizations, including the Esalen Institute, the Omega Institute, the Elmwood Institute, the Centre for Creative Change and the World Institute for Humanities, receiving the Buffet Award for Indigenous Leadership from the American organization EcoTrust in 2003. Currently, she is a member of the National Aboriginal Traditional Knowledge subcommittee of the Committee on the Status of Endangered Wildlife in Canada (COSEWIC). In the Okanagan, Armstrong is engaged with the En'owkin Centre in the protection of riparian lands on the Penticton Indian Reserve. Large stands of cottonwoods traditionally grew beside the once-meandering Okanagan River, creating their own ecosystem and a habitat for species of birds, toads, salamanders, insects and butterflies. Both the stands of cottonwood and the wildlife they shelter have become endangered, and the En'owkin Centre has organized a drive to preserve remaining stands on privately owned or 'locatee' lands within the Penticton Indian Reserve. The En'owkin Centre has also organized "Ecommunity Place" where members of the community, Native or non-Native, are encouraged to participate in ecological restoration work and enjoy art, music, readings, performances and other celebrations that foster connection to this land.
The protection and restoration of salmon in B.C. is also important to Armstrong, who says that her mother was "a river Indian," connected to the traditional fisheries of the Columbia River system in the Okanagan.4 According to Armstrong, the Okanagan people traditionally revered and respected the waters of these river systems as being innately bound with the live-giving and miraculous gift of the salmon they brought to the Okanagan each year. Water was not seen as something separate, but rather part of the salmon. As a child, Armstrong saw the last large salmon harvest on her people's land in the Okanagan, and the loss of the salmon run has caused "the deepest possible grief." Now, Armstrong says, it is important that "we. . .forge something new, a new course chosen for the right reasons. A course insuring the preservation of the precious gifts of life to each of us and our generations to come as true caretakers of these lands."5
Making the voices of the land, and the wisdom and beauty of her cherished people the centre of her life, Armstrong has reached out through art, scholarship and tireless activity to enrich the world. She is a treasure of the Okanagan.
__________________________________________________
1 "Jeanette C. Armstrong," Native Poetry in Canada: A Contemporary Anthology (Peterborough, ON: Broadview Press 2001), ed. Jeannette C. Armstrong and Lally Grauer, p. 106.
2 Armstrong, Jeannette C., "Land Speaking," Speaking for Generations: Native Writers on Writing, ed. Simon J. Ortiz (U. of Arizona Press, 1998), pp. 175-194.
3 Armstrong, Jeannette C., "I Stand With You Against Disorder," Yes! Magazine, Winter 2006, www.yesmagazine.org, October 6, 2008.
4 Armstrong, "I Stand With You Against Disorder."
5 First Fish, First People: Salmon Tales of the North Pacific Rim, ed. Judith Roche and Meg McHutchison, (Seattle, One Reel and U. of Washington Press, 1998), pp. 181-193.