We gratefully acknowledge the financial support of the Province of British Columbia through the Ministry of Healthy Living and Sport, and the assistance of the British Columbia Museums Association.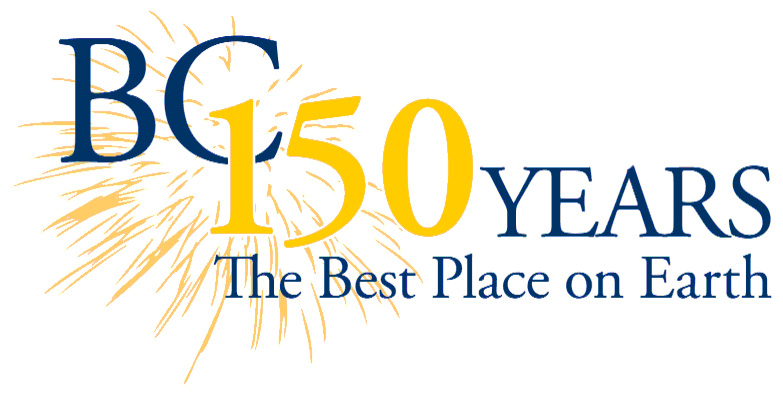 ________________________________

Helen Church: Heart of Gold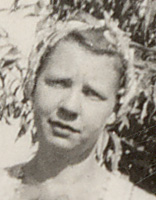 Helen in 1950
by Sue Whittaker
Helen Church, nee Johnson, was born in Tisdale, Saskatchewan, June 21, 1918, one of ten children in a Swedish immigrant family. She moved to Osoyoos in 1936, having been offered employment at the Carlson-White General Store. When her employers purchased a store in Beaverdell, Helen worked there the winter of 1937, but returned to Osoyoos in the spring. Helen met Harold Church in Osoyoos while he was working at the Dividend Mine, and they were married on July 5, 1938, in Tonasket, Washington, due to the unavailability of a minister in Osoyoos. They moved to Penticton for five years while Harold drove Greyhound Bus over the Cascades.
Because Helen was unable to have children, they adopted Edward, Patricia, Judith and Barry. They also cared for a fifth child who had muscular dystrophy. Although he was not adopted, Robert was always considered 'family,' and Helen looked after him until he was a teenager and required hospital care. Her daughter Judith relates, "Our adoptions which represented different races – Japanese, Russian, Irish and First Nations – created an opportunity for Mom to comment, 'I just need an African American now to complete the United Nations for our family.'"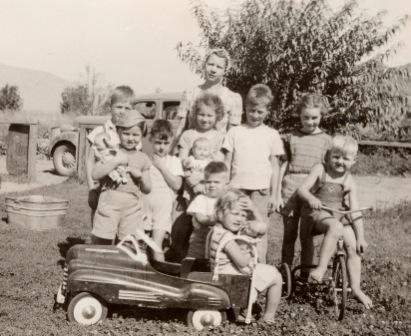 1950
When Helen and Harold returned to Osoyoos in 1943, they eventually purchased acreage on 62nd Avenue, on the East Bench in Osoyoos. They lived in a cabin on the knoll of the hill while their home was being built. Judith recalls, "Upon moving into the bigger house, they rented the cabin to a family. Out of that family's tragedy – the mother's death was the result of domestic violence, the father was sent to prison – the children were taken in by my parents until they were placed in foster care at the end of the year. Those were the beginnings for them of reaching out to children in need."
Helen's children believe it was a major accomplishment that she was able to have satisfying work that she could do from her home. She ran a foster home as needs demanded and day care from the 1950s to the 1970s. She provided care for little folks as young as three weeks and occasionally for youth and adults when necessary. She often received calls from Social Services, the RCMP and the high school counsellor requesting her services.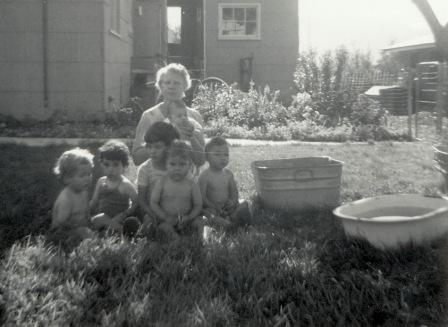 Cooling Off in Summer, early 1960s
During the immigration of many Portuguese to the Osoyoos area in the 1960s, Helen ran a nursery where children stayed round the clock while their parents worked establishing orchards. As Judith says, "Mother cared completely for the children she was entrusted with, taking them to the health nurses for shots and to doctors' appointments. Due to the language difficulties she had to learn to communicate simply and clearly to help the parents understand what had transpired that week with the child. Birthdays were celebrated and cakes were baked and pictures taken to send home. Keeping records of Baby's first tooth etc. for the parents was a delight."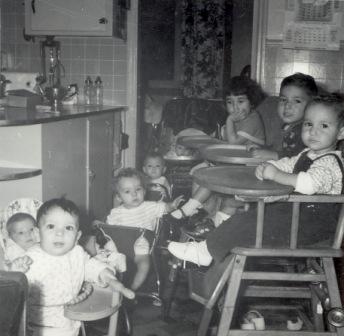 Breakfast Time, early 1960s
For a while the whole Church family was involved in the care of nine babies, all under the age of two years, until 'apples finished'. This was when Helen's skills as an organizer shone through. She was up at night for feedings, which meant that when her kids got home from school they were expected to give her a break. And in order for her own family to 'work' the babies were kept on a schedule. Highchairs were lined up in the kitchen for meals, and doorways had unique gates to keep the babies safely in designated areas. Her husband loved carpentry so he was delegated to build extra cribs. Huge laundry loads necessitated the purchase of a new washer and dryer to replace the old wringer washing machine. Baths were nightly and at bedtime the radio was always left on to help the babies go to sleep. Keeping the house immaculate lest anything be passed on was a high priority.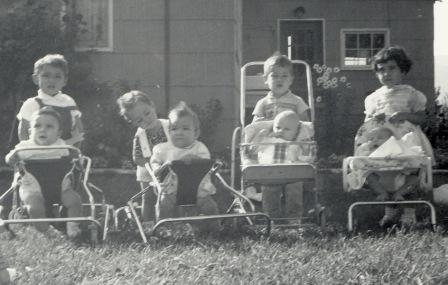 Children in Strollers, early 1960s
Judith remembers, "Mom got a real sense of accomplishment in the joy of helping others. Her connections with these immigrant families was a meaningful association. She took satisfaction knowing she had helped care for their precious children. Mom's other major achievement would be the care of the foster children who came into her home on a longer basis. Some had faced domestic tragedy, others, dysfunctional situations with parents. Mother was able to give children stability in the midst of chaos. She would set boundaries to challenge them and the results were beneficial. There was an improvement in the children's abilities. Something simple such as, 'It is bedtime. You can read to your younger brother for as long as you like.' The child's skills might have been limited but in due time, he found the pleasure of reading and his school grades improved."
Helen once received a call from the RCMP after they had apprehended two boys, 13 and 15, from Edmonton in a stolen car. She was asked to take the boys in until the situation was resolved and it was no surprise to anyone that she was up to the task.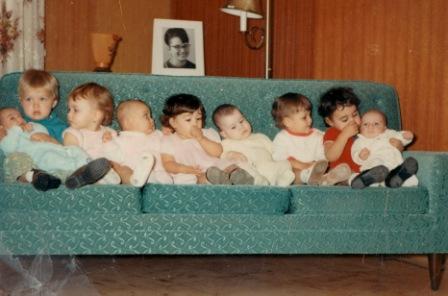 Children on Couch, 1968
Helen's basic philosophy came from the Bible. "Whatever your hands find to do, do it with all your might." Helen was a committed Christian and a real 'hands-on' practical type of person. Her children recount, "The first Christmas in Canada for an immigrant family, she took over a parcel for them and their children. They had so little and they never forgot the kindness. She could scrub a floor for the elderly, take them to an appointment, or drive a friend who had no license or car, to shop. Her practicality extended to her own kids. We lived in a rural area and phones had not been installed so when we were playing at the neighbour's, Mom saved her voice and gave one long and two short blasts on a whistle to call us home."
Helen was a faithful Pentecostal Church member, involved as a Sunday School teacher and secretary of the Ladies' Missionary Group. She transported children to Sunday School who might otherwise not have been able to attend. Helen never wanted folks to be without a ride.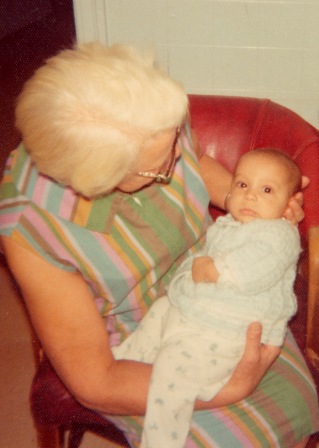 Helen with Newborn,
early 1970s
Judith states, "Mom's strength was determination and being able to put things behind her and go forward. Even in the nursing home, she continued to practice that. When she started to feel better upon getting new meds for her Parkinson's disease, I thought she should not have sold the house, she could return home. 'No,' she said. 'Life goes on. I am okay here.'"
Helen Church was awarded the Heart of Gold award from Air Canada August 17, 1988, for her commitment to the care of children.
Helen died in Sagebrush Lodge, May 19, 2000. Her work is remembered with a great deal of gratitude by many families in Osoyoos.