We gratefully acknowledge the financial support of the Province of British Columbia through the Ministry of Healthy Living and Sport, and the assistance of the British Columbia Museums Association.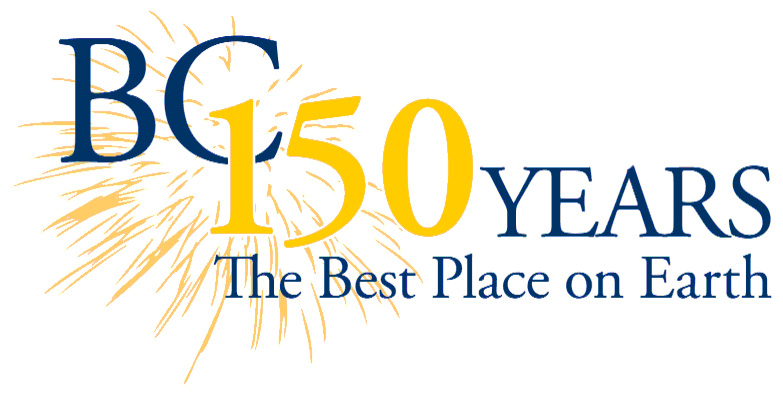 ________________________________

Katie Lacey: An Eye for History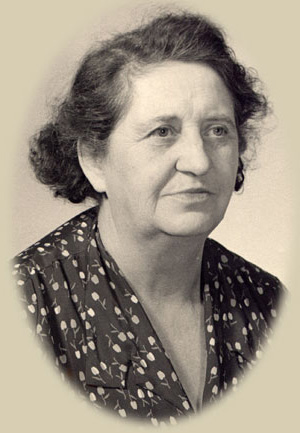 Katie, early 1950s
by Lally Grauer, Ph.D.
Katie Helps was born in Bristol, England, and at the age of eleven came to live in Osoyoos at the old Haynes ranch in 1911. She attended school in Yale, BC, and in Penticton. After her marriage to Edward Nicholas Lacey, she moved to Kruger Mountain where her husband had inherited his father's homestead in 1919.1 They moved back to Osoyoos in 1928, and bought what came to be known as Lacey's Point, about eight acres of "sagebrush and cactus," on Osoyoos Lake in 1931.2 There are many stories, some she has told herself, about the tough and challenging days of her pioneer past, but Lacey is best known for her work as a local historian.
In the 1950s and 1960s, Lacey wrote several articles that were published in the Okanagan Historical Society's Annual Reports. They include a history of the settlement of Kruger Mountain, Anarchist Mountain and Richter Mountain, as well as of the towns of Osoyoos, Fairview and Oliver. Her historiography usually combines detailed chronologies of settlement and land ownership with anecdotes about resilient, idiosyncratic characters and their strategies for survival.
In her reminiscences of the settlement of Kruger Mountain, she reports on a time when "there were few women," so that "any young lady visitor caused a commotion" and "romance flourished under difficulties."3 The crops and livestock had less trouble, though, rainwater being more available on the mountain than the valleys. According to Lacey, herds of wild horses and cattle in their thousands ranged in the hills. Crops such as wheat and rye grew well, "sewed in small patches among the rocks," and one year the potatoes "were so big that they were hard to sell, and were stacked like cordwood."4 While these excerpts may reminisce about a freer life on a grand scale, Lacey was not a sentimental historian, but rather one who fostered precise, accurate reporting, believing "Don't trust your memory; write it down."5 She contributed much to the Okanagan Historical Society and formed a local Oliver-Osoyoos branch.
Katie Lacey is perhaps most recognized in the South Okanagan for being the driving force behind the establishment of the Osoyoos Museum in 1963. She and her grand-daughter, Bonnie Kuyten, spent hours visiting and talking with people, gathering artifacts and storing them for the museum. Even when Lacey was ill with cancer, which killed her in 1964, she continued to work on the phone and at her desk to drum up support for the museum and to record local history. Besides being a historian, Lacey was also an artist, and her son has said that she quietly sold her own paintings in order to help finance the Osoyoos Museum.6
One of the most important collections of the museum is a very rare collection of paintings and drawings by Indigenous youth, perhaps the only one of its kind in North America. These works of art were created by children of the Osoyoos Indian Band who attended the Inkameep Day School on the Nk'Mip Reserve (near Oliver) from 1932-1942, where they were encouraged by their teacher Anthony Walsh to create drawings, paintings and plays informed by their Okanagan stories, language and culture. Over the years, several of the pieces were sent to competitions in Canada and Europe, including London, Paris, Dublin and Glasgow, becoming a source of community pride and celebration. When Walsh left the school to join the Legion War Services in 1942, subsequent teachers no longer placed value on Indigenous knowledge and cultural productions, and the works were left to decay, some of them even destroyed. It is to Katie Lacey's credit that a number of these drawings and paintings were salvaged and eventually given a place in the Osoyoos Museum. These works have again been brought to public attention and enthusiastically acclaimed in recent years through exhibits such as the show "Drawing the World" at the Vancouver Art Gallery in 2003.
Throughout her life, Lacey gave much of her time to homesteading, developing a dairy business and engaging in domestic activities such as knitting and sewing clothes for her family. Thanks to her, however, the history of the southern Okanagan has been valued and painstakingly collected, safe-guarded, assembled and passed on.
__________________________________________________
1 "Katie Lacey: Pioneer and Historian," address by an unidentified person to the International Soroptomist Club of Osoyoos, date not ascertained. Osoyoos Museum, Katie Lacey Manuscripts.
2 Ibid.
3 Lacey, Katie, "A History of Settlement on Kruger Mountain," Okanagan Historical Society Annual Report 15 (1951), pp. 110-120.
4 Ibid, p. 113.
5 "Katie Lacey: 1900 - 1964," Okanagan Historical Society Annual Report 28 (1964), p. 92.
6 "Katie Lacey: Pioneer and Historian."