We gratefully acknowledge the financial support of the Province of British Columbia through the Ministry of Healthy Living and Sport, and the assistance of the British Columbia Museums Association.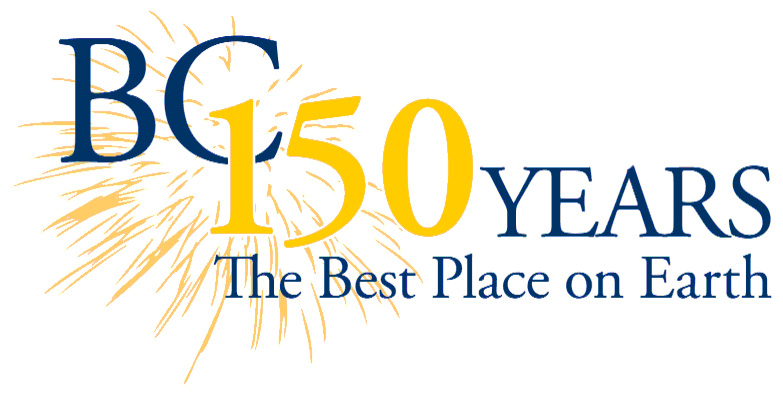 ________________________________

Ruth Schiller: Activist for the Arts and the Community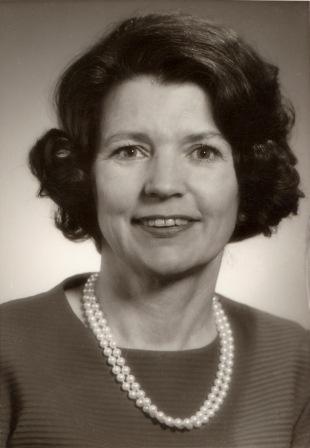 Ruth, 1972
by Jody Chadderton
In Ruth Schiller's dining room, there are photographs of Ruth with notable political leaders: Ruth with Jean Chretien, Ruth with Pierre Trudeau, Ruth with Glen Clark, Ruth with Gordon Campbell, even Ruth with Queen Elizabeth II. She estimates that in this riding (BC Southern Interior), she is "the longest card-carrying member of the federal Liberal party." But it wasn't necessarily as a political supporter that she got to meet our top politicians. She has been recognized locally, provincially and federally for her dedication to the arts and to the community.
Ruth's interest in the arts goes back to her childhood in Germany. She was born Ruth Castillon on February 25, 1925, in Boblingen, near Stuttgart, Germany, to a family who nurtured her appreciation of art. At that time in Germany, at age fourteen one took a year off school to "work in a household, work on a farm or [acquire] some military experience." Ruth had two uncles and some cousins who lived in Osoyoos, and the idea arose that she should spend a year in Canada learning English and working in the orchard. She says, "There were a lot of hoops to be jumped to get that permission for me to come." Nevertheless, she did get permission and in February, 1939, she left Germany by herself on a freighter and landed in Vancouver fifty-four days later. Her uncle drove to Vancouver to pick her up. The aunt and uncle with whom Ruth lived were among ten German families in Osoyoos at that time. Their name, Pfingsttag, is a well-known pioneer name in the area.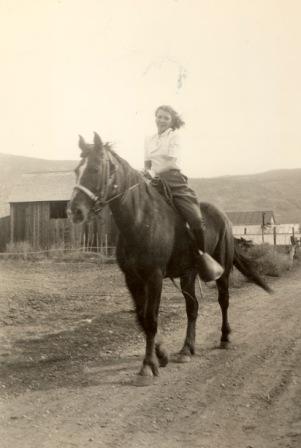 Ruth on Horseback, April 1939
Ruth's life was to change dramatically in September, 1939, with the start of World War II. She says, "There was absolutely no way that I could have gone back to Germany 'cause you just couldn't go." About 1940, it was suggested she should return to Germany via the U.S. and then Spain, but some locals, notably the Goodmans and the Frasers, lobbied on her behalf, and she got permission to stay. Communication with her parents in Germany was very difficult during the war. Letters, sent by the Red Cross, were limited to 25 words; sometimes only 7 or 8 words were left once the censors were through. And the mail was slow. After hearing of an air raid near her hometown, Ruth remembers, "Maybe eight months later I would hear that my mother and dad were okay."
Meanwhile, Ruth learned English, attended school in Oliver and worked in the orchard in summer. "School was great," she says. "It was just a brilliant time." As for the farm work, she states, "My favourite story when anybody complains, 'You should be out there in 120 degrees picking tomatoes. Then you know what life is all about.' But we had to do it. Number one you couldn't get help, and there was always pushing. You just had to go and work. Very hard physical work. No electricity. No running water. In the summers you'd drink that warm flue water that we used for irrigation. It was no luxurious life, but we were all doing the same thing, and I don't think anybody really commented on it."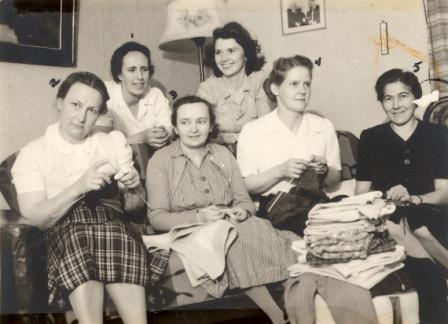 Ruth (in centre) in 1946 with Sewing Circle (l-r): Lieschen Dimmel, Lotte Beurich, Frau Kohler, Margaret Janzen and Friedel Lemke
A strong work ethic and the spirit of giving were instilled early in Ruth. Besides going to school and working in the orchard, she and five other German women got together during the war to sew and knit for an orphanage in Germany. Ruth had a lot of clothes back then, but she gave them all away except for two dresses.
When Ruth finished school, she married Fred Schiller, moved to his orchard and the hard work continued. But as hard as they worked, they also had a lot of fun. Fred loved the arts too, and they enjoyed listening to classical music together. They also read and discussed philosophy, such as the works of Kierkegaard, among others. There wasn't much entertainment in Osoyoos in those days so they learned to entertain themselves.
Their son Freddie was born when Ruth was twenty-one. Ruth maintains that she "was always a stay-at-home mom except for a short time when my mother and dad immigrated to Canada in 1950." In reality, Ruth probably did very little staying at home as she helped in the orchard as well as having a job for two years as a bookkeeper. Her daughter Moni came along in 1954.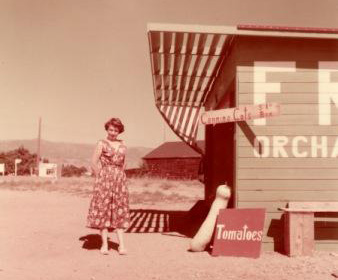 Ruth with Fruit Stand, 1956
The next year Ruth opened a fruit stand, one of the first in the area, where the Liquor Store now stands. Ruth recalls, "It was again a terribly hard job, but I liked it. I would start work – I'd bomb through Osoyoos at six o'clock in the morning – and I'd close the doors at ten… My friends would always send their kids to work for me because, boy, we worked." Ruth says that Allison Smith of CBC television worked for her for two years. "She and my daughter still talk about when I wouldn't let them put sweaters on because it was bad for the tourists." After twenty years, Fred threatened to burn down the fruit stand to stop her from working such long hours, so she finally gave it up.
Next came her job with Stats Canada. Ruth thought she was taking on a six-week job, but it turned into nine years. As a supervisor, she hired interviewers for income surveys, agricultural surveys, etc. from here to Revelstoke. In doing so, she saw a lot of the province.
Throughout this time, and still to this day, Ruth has been a dedicated volunteer. It is helpful to think of Ruth's life in the following categories because of the overlap in her various pursuits, involvement and recognition.
Arts
Interestingly, Ruth has never considered herself an artist, but she loves the arts, and recognizes that artists are not very good at self-promotion. She has been involved in arts councils locally, regionally, provincially and federally. She was a founding member of the Oliver and Osoyoos Arts Council and later the Osoyoos Community Arts Council. While president of the latter in 1987, Ruth helped the Arts Council obtain permission to use the old RCMP building at the corner of Main and 89th Street for an art gallery. According to the Osoyoos Times (August 24, 1988), the Osoyoos Community Arts Council was the first council in the Okanagan to run an art gallery as a business venture, selling items on behalf of artists. Over twenty years later, the art gallery still operates in the same location.
Regionally, Ruth was involved for many years in the Okanagan Mainline Regional Arts Council. While on the council, she headed up a committee to present a unique cultural event in 1976 which they called 'Okanagan Image.' This event brought together orchestra, choir, ballet, poetry, sculpture and painting to four venues: Vernon, Kamloops, Kelowna and Penticton.
At the provincial level, Ruth was, at various times, on the B.C. Interim Arts Board, the B.C. Arts Board and the Assembly of B.C. Arts Councils. She also served on the B.C. Advisory Committee for the Young Artists' Exhibition at the Emily Carr College of Art.
From 1977 to 1979, Ruth was on the Canadian Conference of the Arts, and from 1979 to 1985, she had the honour and pleasure of being on the Canada Council for two terms. A speech she gave in Penticton in 1982 listed some of the artists and government officials with whom she had the pleasure to dine. Then she said, "I believe in the arts. I feel strongly that the arts are good for people at any time, but especially in tough times. They are indeed a bridge over troubled waters. Mutual understanding has always been best carried out through the creative arts."
Politics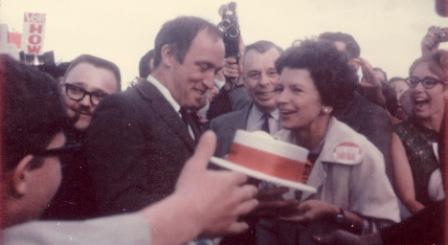 Ruth with Pierre Elliot Trudeau, 1968
Ruth joined the Federal Liberal party at age twenty-five. She went to her first meeting in Penticton. "I was one of the youngest persons there and I know that there was only one other woman there. There was a lot of talk, arguments… it was an exciting evening."
Years later, in 1972, Ruth ran in the provincial election as a Liberal candidate. "That was the year that Bennett [W.A.C. Bennett, Social Credit] lost and Dave Barrett [N.D.P.] got in. As a Liberal you didn't have much of a chance…" She had fun trying and the door-knocking was a new experience.
Not long after her inevitable defeat, she was asked to let her name stand for Irrigation District Trustee. After her recent election defeat, Ruth held little hope of securing the seat. She was surprised to win with a whopping 73% of the vote. She was the first woman ever to sit in that position.
Ruth continues to be interested and involved in politics. In 1996, when she was seventy-one, she co-chaired the Federal Liberal campaign committee in B.C.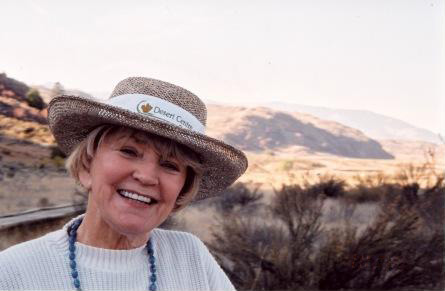 Ruth, President of Osoyoos Desert Society, 2000
Community
Beginning with the P.T.A. when her children were young, and not necessarily in order, Ruth became involved with various community organizations. She has been on the Regional Library Board, the Okanagan College Advisory Committee and Board of Governors of Okanagan University College. She was also on both the Osoyoos Rural Ratepayers Association and Economic Development Corporation of Osoyoos. She represented Osoyoos on the board of the Okanagan-Similkameen Branch of Community Futures Development Corporation. But probably the single most notable community project Ruth embraced was the Osoyoos Desert Society which she co-founded in 1991. In 1998 the society secured a 27-hectare parcel of Crown land, and the Osoyoos Desert Centre was opened on July 2, 1999.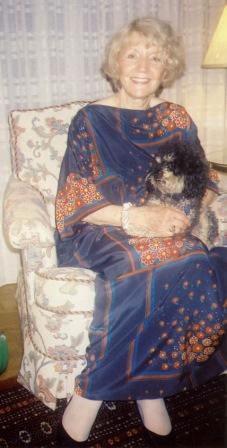 Ruth "Retired", May 2006
Awards
During the past thirty years, Ruth has received the following awards for her contributions to the community and to the arts:
| | |
| --- | --- |
| 1977 - | Queen's Silver Jubilee Medal |
| 1993 - | Lescarbot Award (from the federal government to outstanding cultural volunteers) |
| 1996 - | Order of B.C. |
| 1999 - | Okanagan Life magazine named Ruth one of the Okanagan's top 25 people of the century for her role in preserving the desert. |
| 2003 - | Community Futures Development Corporation Volunteer Award |
Conclusion
Ruth Schiller's contributions to the arts and the community are far from over. At 83, Ruth remains vital and active. "Don't Die Before You're Dead" was the topic of a speech Ruth gave in April, 1996, at a provincial University Women's Conference in Penticton. Twelve years later, Ruth is a living model of this slogan. Through her love of art and her love of this community, Ruth has dedicated years of her life, creating a legacy few will ever try to equal.