Marguerite Scott: Beloved Teacher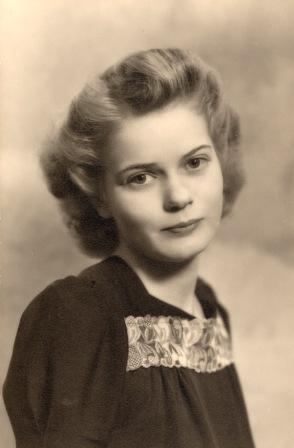 Marguerite, early 1940s
by Maureen Kresfelder
For six years Marguerite Scott taught grade one at the elementary school in Osoyoos, and then as a teacher-on-call she taught grades one to six for twenty-five years. The years just flew by because for her, "It was the best job in the world. I loved it."
When she first graduated from school in 1939, she wanted to be a journalist, but her aunt Edna, one of the three aunts who raised her, suggested she go to Vancouver Normal School (a teacher training institution). Edna told her "to teach for a while and save your money. Then do what you want to do." Her aunt felt that Marguerite was "a shy kid off the farm and wasn't ready for the big city life of a journalist." Happily, once Marguerite started teaching she enjoyed it immensely and had an aptitude for it as well. What made it a particularly good career choice was that she and the children "felt at ease with one another and brought out the best in one another."
From her earliest days of teaching, six years before she arrived in Osoyoos, Marguerite welcomed learning from her students. In her first year of teaching, some grade four students came to her boarding house on the weekend and taught her to ride a bicycle. They had been shocked to learn that she had never acquired the skill. Even though she didn't have a natural ability for it and "hit every blackberry bush on Lulu Island" while she was learning, she persevered with their help. And that too is the kind of lessons she taught her kids: "You can do it if you just try."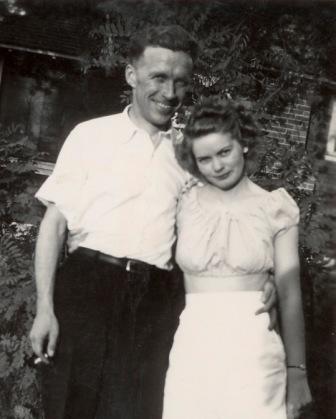 Marguerite with Her Husband Roy, 1948
When she started teaching on Lulu Island at the Hamilton school (in the Richmond area), she received $750 a year – a prodigious sum it seemed then. She then went to teach in Maillardville, Coquitlam, Grand Forks and Penticton before settling in Osoyoos in 1948 and marrying a local Customs Officer. By marrying, she sorely disappointed one little boy who had set his sights on marrying Miss Grant when he grew up.
It was her love of children and her belief that all children have "gifts to share" that kept her keen to continue. During the Second World War when the Japanese Canadians were being interned and sent to the Interior, she made sure the children got "the love message in the classroom" and treated the Japanese students kindly, especially after one misguided parent told her daughter that the Japanese were "the enemy." And during the volatile political times of the Doukhobor protests against the government, she made sure the other children in the classroom treated the Doukhobor children with respect. Marguerite says she always admired the Doukhobor children's choirs. According to Marguerite, "Those children learned to sing from their hearts at an early age."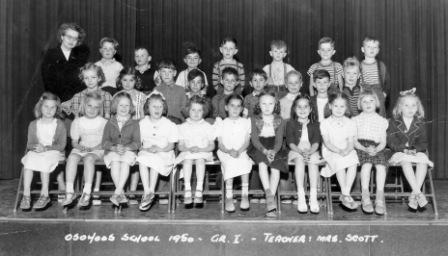 Marguerite with Her Grade One Class, 1950
Marguerite has many anecdotes about her students' antics in the classroom. Two of these are particularly memorable. The first year she taught in Osoyoos, the classroom was in one of the army huts that had been joined together to form the school (located where the Town Hall is now). As she began to read the story of The Little Engine That Could, a student began to whistle. When she asked who it was no one responded so as punishment she discontinued the story. Years later, the culprit, now an adult, confessed to the whistling but told her that he had always whistled when he was happy. Whenever he saw her on the street or in a café he would call out, "When are you going to finish that story?" Marguerite felt "badly" for the "unfair punishment" she had meted out those many years ago, but she also wanted to put an end to the teasing. So one day she made up for her dastardly deed by reading him that very story with great expression as he drove her to the airport to catch a flight to Calgary. Marguerite says that the "expression on his face was priceless."
The second year she taught in Osoyoos, she had "The Whistler's" brother in her class. "He was a lovable little imp." This imp tried to persuade the Inspector of Schools several times to put his finger in a bowl of "mean looking little catfish" that the imp had brought to school that very morning. Fortunately for Marguerite, the Inspector did not take the bait and she received a good report for her teaching. "The Whistler" and the "Lovable Little Imp" still live in Osoyoos and are in their sixties.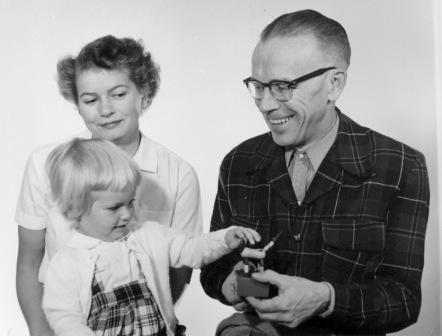 Marguerite, Roy and Fay, 1958
As well as teaching, she also raised two children of her own. Her stepson Bill was thirteen when he entered her life. He forced her to learn very quickly about the challenges of raising teenagers. But like so many other children, Bill came to love and respect Marguerite. Bill married "a lovely Australian girl." They and their children live in Australia. Along the way Marguerite and her husband Roy adopted a baby girl, who they named Fay. She was "a gift from God." Fay also married, and she and her two girls mean the world to Marguerite.
When asked on a questionnaire what advice she would give today's teachers, Marguerite replied, "Love those kids! Don't jump to conclusions too quickly. Help them to believe in themselves. Make them aware of their gifts, for everyone has gifts to share. I think the children helped me realize that I had gifts too. Being on the shy side, I felt perfectly at ease in the classroom, totally accepted. I like to think the kids felt that way too, even though for some, it took a while."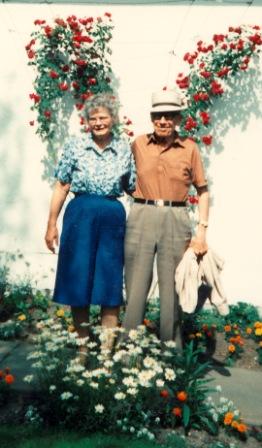 Marguerite and Roy, 1992
About two dozen of her former pupils still live in Osoyoos or have returned here. Each one remembers Marguerite with affection and admiration. "She was my best teacher." "She started me off in the right direction. She's just a sweetheart." "She made school interesting. She was an excellent teacher." "She gave me a good start in life." "She was kind but firm." "She was everybody's favourite teacher." "I liked learning from her." These are just some of the accolades showered on a woman who influenced the early life of so many children in such a memorably positive way. From Marguerite they received love and acceptance for who they were and the encouragement to learn and "explore their gifts" with confidence. They haven't forgotten how she made them feel.
As well as teaching school, Marguerite was involved in community activities in Osoyoos. She taught Sunday school and led church choirs at the United Church for many years. For several years she was also a part of an active community choir. The members were from Oliver and Osoyoos. They sang for church congregations to honour the World Day of Prayer in various churches in Osoyoos.
Along the way, Marguerite wrote poems about her teaching experiences, her faith and her love of nature, which are imbued with her delightful sense of humour. They so perfectly reflect the kind of person she is.
By touching so many lives with kindness, Marguerite Scott has had a lasting impact on this community. She is truly beloved.