Alison Smith: A Clear Message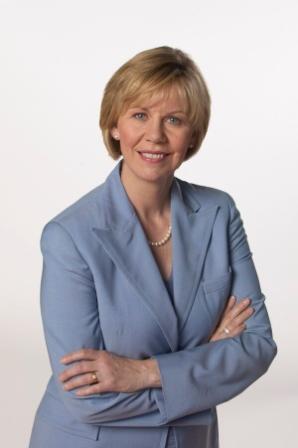 Alison, 2008
by Gayle Cornish
Alison Smith of Osoyoos is an extraordinary woman in an extraordinary profession. The veteran CBC correspondent's familiar voice rings with clarity and energy as she paints word-pictures of her upbringing here and her adventures around the world.
"Growing up in a small community gives one a sense of confidence; people know who you are. When I come home to visit, I love that I am treated no differently from anyone else and can be myself."
The well known Canadian television journalist, was born in Oliver, BC, in 1954, and was raised in Osoyoos. She currently works as a foreign correspondent with CBC television news in Washington, DC.
Alison's family roots in the South Okanagan go back to 1921, when her maternal grandparents, Victor and Bertha Fairweather, moved to Oliver.
Her parents met at UBC and both taught school. They settled in Osoyoos in 1951. Shortly after, Bruce left teaching to work for her uncle Paul Fairweather who managed the Osoyoos Hardware Store founded by her grandfather Victor. Alison, her sister Sandra, and brother Randall all had summer jobs in the hardware store. Alison fondly states, "I am still a hardware girl."
Allison credits her father Bruce for igniting her interest in foreign affairs. He had a gift for story-telling and public speaking, and took a lively interest in the world. He had studied in Peking (Beijing) before he was forced to flee in 1948 during the Communist Revolution and was able to speak some Mandarin.
As Alison grew older, the CBC became a lifeline for her to the rest of the world. "Listening to CBC opened up the world to me, first in radio, then in television. I knew I wanted to go into broadcast [journalism] in high school. I wanted a chance to tell stories to the rest of the world."
She graduated from South Okanagan Secondary School in 1972 and attended the University of British Columbia in Vancouver for two years. She then attended what was formerly known as the Ryerson Polytechnical Institute in Toronto where she graduated as Gold Medallist in 1977. She has a Bachelor's degree in Applied Arts.
In 1976 she got her first job in a local CBC television newsroom at a time when videotape was 2 inches wide and teletype was on paper. Alison started as a "gopher," then began writing as a local reporter, and from there quickly worked her way up. In 1981 she moved to The National as a reporter, and in 1989 got her first job as news anchor. She began to work full-time with CBC Newsworld when it was launched in 1989.
Alison married Jim, a lawyer, in 1980 at the Osoyoos United Church, in her hometown, amongst family and friends. They maintain, however, their residence in Toronto.
She continued to work while raising sons Jeffrey, born in 1985, and Paul, born in 1987. She says she was able to balance family responsibilities and a high profile career much like anyone else. Many people, such as nurses, work ridiculously long and often unpredictable hours. Alison says, "I had perks and benefits, the luxury of a good paying job, a supportive family, and good babysitters, who became part of the family. I would never complain."
After the children were enrolled at university, the opportunity to work as foreign correspondent in Washington, DC, came open: the timing was right.
Alison comments, "It's interesting to live by myself again and to eat popcorn for dinner if I want." She loves Washington, where none of the buildings are to be built higher than the Capitol Building. There is a wide open feeling, and it is always busy. She lives downtown where she can walk to work, and loves the Smithsonian museums, generously endowed and open free to the public. Her husband has always been supportive of her career, and commutes frequently on short flights from Toronto to Washington for visits. She points out that they have been happily married for a long time.
When asked if it was difficult to break into television as a woman, she explained that 30 years ago it was a different landscape, and she became part of the first wave of women to come onto the national scene. The CBC had realized that female journalists should have more of a public face. Barbara Frum was one of the first to break the ground, making it easier for other women to follow.
Alison believes in reporting the news from a Canadian perspective. She feels that Canada as a middle power is a country of such rich multi-cultural diversity that Canadians often see and approach things from a different perspective. She also sees the CBC as a unifying force. "CBC is a connector of small communities, and provides us with a common link that gives Canadians the ability to carry on conversations across the country. I can have a conversation from here with my friend, a Park Ranger in Jasper, because he will have heard the same story. CBC has provided that common link." That certainly resonates in programmes such as Cross Country Check Up and the days when listeners could phone in to CBC Radio to send Christmas greetings to friends in remote and far flung corners of the country.
As news anchor and reporter, she has covered the first Gulf War, the Olympics in Atlanta and Athens, and deaths of Pope John Paul II and Princes Diana. Her sister Sandra recalls that during the first Gulf War, Alison's husband and children were holidaying on the beach in Osoyoos, while her mother Pauline was glued to the television set in the living room. But, as Alison explains, "I was in the Middle East in the run up to the war. Iraq had invaded Kuwait, but people got on with their lives. They still had groceries to buy and had to look after their kids. TV shows the most frightening aspects, but I wasn't shot at, nor did I ever feel I was in danger."
"It is always exciting to cover the major events, but it isn't always as glamorous as one thinks," Alison continues, citing a recent experience covering the hurricane in Texas. The electricity was out, and she was eating cold peanut butter sandwiches from the back of a van in the pouring rain while the TV crew was trying to hook up to a source of power. But she adds, "Sure, working conditions are sometimes difficult, but we know that at the end of the day, we can leave. It is the people dealing with these terrible circumstances, people living through it, who can't."
When asked about the most poignant moment in all her years of reporting, Alison recalls, "I was at the first multi-racial election in South Africa. I certainly remember being in Soweto. It was early morning, just as the sun was coming up, and on the road to a church, which had once been the scene of great violence, as far as you could see, were people lined up to vote: young men and old ladies, people of all ages. When you talked to them, it was like they spoke poetry. It was this privilege to vote that was so important to them. If ever you had a moment when you weren't going to vote, that perished. You realized how precious it is. This was an amazing experience, truly historic and personally moving."
Of the many awards bestowed on her, the most significant has been the Honorary Doctor of Laws she received from Okanagan University College in Kelowna in 2004. "My dad was involved with the founding of OUC and to be able to receive a degree from there meant something."
The ceremony was made even more meaningful because her best friend Moni Schiller attended, along with Moni's mother Ruth and Dorothy Jean Amos, whose twin grand-daughters were graduating at the same time. Dorothy Jean's presence, says Alison, reflected the depth of her own roots here. Dorothy Jean, Francis Goodman and Alison's mother Pauline had been friends since they were toddlers and called themselves "The Golden Girls." Alison describes their 70-year friendship as "truly remarkable."
Although she has spent her adult life in Toronto, she says there is at times a certain animosity toward the city. Therefore, she values her Osoyoos roots. "People are familiar with you, and there is an easiness about saying I am from Osoyoos."
About her overall career in journalism, Alison reveals, "It is a thrill to be there for the big events, but it is those small moments over time that count. The opportunity to travel the world, to meet people and be invited into their homes, and to talk to them on a very personal level, is to see the world in a way that one never could as a tourist. It is a privilege. It is a gift."